VS Model Candice Swanepoel Gets Her Wings!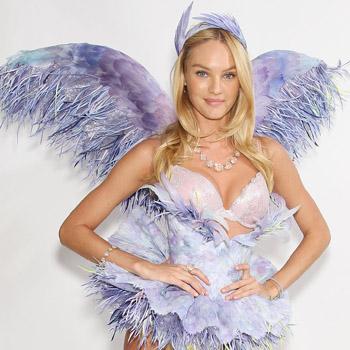 When Candice Swanepoel arrived at her fitting for the Victoria's Secret fashion show in a tank top and leather leggings, she easily could have passed for one of the many fashionable people behind the scenes who help make this extravagant event happen each year. But after she slipped behind a curtain to try on her opening look, she was instantly transformed into a full-on supermodel.
"It's amazing to open the show. You're starting the energy, so it's quite important," says Candice.
Article continues below advertisement
Designer Todd Thomas created three ethereal ensembles for the South African–born beauty to wear with the signature angel wings. "My wings this year aren't heavy at all. Thank god!" she shares.
When asked about the sky-high shoes? "It's really nice to walk in very high heels. I have a high arch, so it's easy for me," she replied matter-of-factly.
Underneath it all, Candice will be wearing her new favorite scent, Victoria's Secret Angel. "It's a really great fragrance for winter because it's a little spicy. It has notes of plum, violet and pink pepper."
Sounds sweet and sexy, just like Candice!