Iceman Is That You? Val Kilmer Is Looking Worse For Wear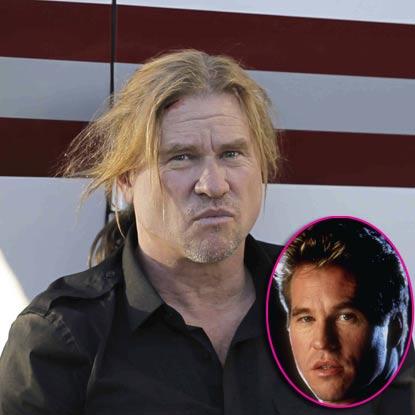 Who was it that said men age better than women?
One-time A-list heartthrob Val Kilmer looked every bit his 51 years when snapped on the Cincinnati, Ohio set of his film Seven Below, back in August.
Kilmer, who turns 52 New Year's Eve, sported frizzy, straw-like hair and a weathered face and was barely recognizable from his Top Gun Iceman days.
In fairness to the star, he's clearly dropped some weight since these pics were taken in March of 2010.
Article continues below advertisement
Kilmer, who dated supermodel Cindy Crawford in the 1990s, starred in such films as The Doors, Tombstone and Batman Forever during the decade.
Seven Below, which will be released next year, "centers on a group of strangers trapped in a time warp house where a terrible event transpired exactly 100 years prior," according to iMDb.
RELATED STORIES:
From Child Star To Chiseled Hunk! Jerry Maguire Kid Strips Down & Buffs Up