Kristen Stewart: Bella Is The Coolest Vampire!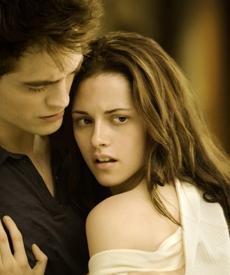 It's a dream come true for Bella Swan — one that could turn into a nightmare. The Breaking Dawn films kick off with her wedding to Edward, followed by some steamy honeymoon sex (finally!), an unplanned, life-threatening pregnancy and, eventually, her own entry into the vampire world. Kristen Stewart talks about Bella's transformation and one very specific rumor about her personal life.
Q: How is Breaking Dawn — Part 1 different from the other films?
Article continues below advertisement
These aren't kids who are just playing around with "I like you." We take the relationship to the next level.
Q: What was it like to try on wedding dresses for the wedding scene?
As a girl, it's wonderful to put on a wedding dress that's classy, simple and feminine. Bella just wants a beautiful wedding where she really gives herself to this union.
Q: How would you describe that scene?
In a word: monumental. I love that it's the guy who wants the wedding so badly. Usually you see the girl, but both of them have this longing.
Q: How is your vampire honeymoon?
You can take the "vampire" part out of it. It's very sexy and romantic.
Q: Guess that won't help end speculation about you and Robert Pattinson dating.
It's like a soap opera. I don't take it personally.
Q: Has he at least been your best big-screen kiss? I've kissed Robert, Taylor Lautner and Dakota Fanning in The Runaways. I'll just say that Dakota was a great kisser and leave it at that.
Q: Will Bella make a good vampire?
She's the coolest vampire! I couldn't wait for the last two movies, because I knew it would be so cool to see how she has changed since she was this confused 17-year-old girl. Now Bella will become the matriarch of the Cullen clan. She can protect everyone.