Kidnapped Washington Nationals Star Wilson Ramos Rescued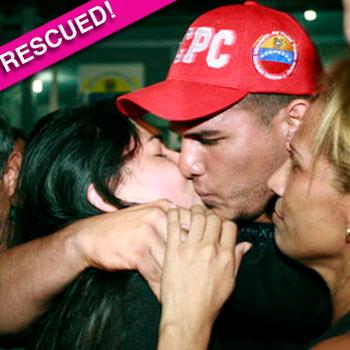 Wilson Ramos was rescued from his kidnappers Friday night, amid a flurry of gunfire worthy of a Hollywood movie.
Wilson, the star Washington Nationals rookie catcher, was kidnapped in his hometown of Valencia, Venezuela Wednesday. He was back home to play in the Venezuela league during the MLB off-season.
Speaking on local TV after his dramatic rescue, Ramos revealed that the five men who held him said "they were going to ask for a ton of cash for me."
Article continues below advertisement
The National Guard commandos had other ideas. Rescuing Ramos alive became a national obsession in Venezuela, a country where kidnapping has become a big money business.
Ramos said he's going to stay in Venezuela with his family and continue with his off-season play until it's time to return to his D.C. team for spring training.
"The truth is I'm still very nervous, but thanks to God, everything turned out well," he said.