George Clooney Recovering After Elbow Surgery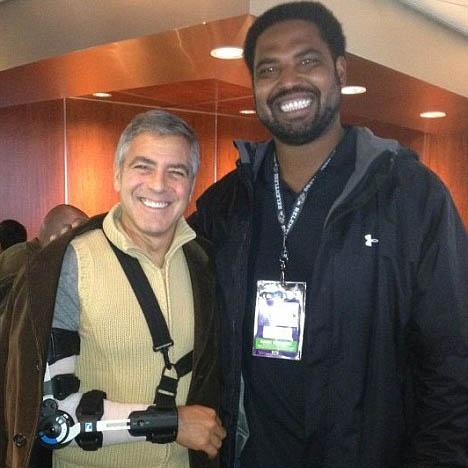 George Clooney is recovering after undergoing elbow surgery last week.
The Ides of March star was spotted with his arm in a sling when he took girlfriend Stacy Keibler to see an NFL game in Baltimore, Maryland on Sunday.
Despite the actor being a Cincinnati Bengals fan, Stacy was delighted to see the Baltimore Ravens -- who she used to be a cheerleader for -- beat George's team, even though he only underwent the surgery "two days ago".
Article continues below advertisement
Writing on her twitter page, the former WWE Diva said: "You know it's love when your boyfriend has elbow surgery two days ago and takes you to a Ravens game ... especially when he's a Bengals fan."
George's condition hopefully isn't too painful, as the Oscar winning actor recently revealed he considered killing himself six years ago when he injured his spine while filming spy thriller Syriana in 2005.