Ethan Zohn 'Resting And Feeling Good' After Completing NYC Marathon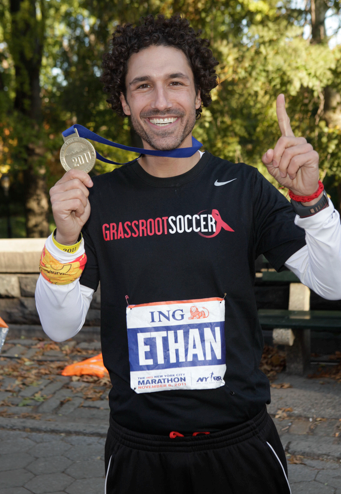 Ethan Zohn proved that he was not letting the return of his cancer break his stride as he completed the New York Marathon Sunday.
The Survivor winner ran the 26-mile race at a very impressive four hours and 20 minutes.
He took to his Twitter page to tell of his joy at completing the grueling challenge.
"NYC marathon finisher!" he wrote. "Drinking Muscle Milk and resting, but feeling good!"
Article continues below advertisement
Zohn, 37, announced last week that he was again battling Hodgkin's Lymphoma after being declared "clean" in April 2010.
He is undergoing 12 weeks of chemotherapy treatment called SGN-35 which targets the cancerous cells and will receive another stem-cell transplant from one of his brothers.
"I don't want fear or cancer to define me, but it's always in the back of your mind," he said.
Zohn said he wanted to do the marathon to show people that you can still live a fulfilled life and move forward while battling the disease.
He also ran to raise money for his Grassroot Soccer organization where he uses the sport to help those with HIV/AIDS.
Kenyan Geoffrey Mutai won the race setting a new record with a finish time of two hours, five minutes and six seconds.
RELATED STORIES: