Thanksgiving Recipe From The Beekman Boys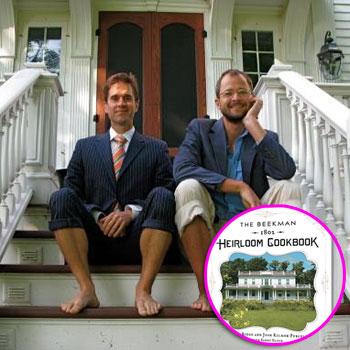 The Beekman Boys popular cookbook, The Beekman 1802 Heirloom Cookbook is out just in time for Thanksgiving and the boys shared their tasty cornbread stuffing recipe with RadarOnline.com from beekman1802.com.
The cookbook is already a celebrity favorite and can be purchased in bookstores or online.
Beekman 1802 Heirloom Cookbook Buttermilk Cornbread Stuffing with Sausage
Serves: 12
Yields: 12 servings
Article continues below advertisement
Total Time: 1 hr 10 min
Prep Time: 20 min
Oven Temp: 350
Ingredients
1 tablespoon(s) Extra-Virgin Olive Oil
1 large Onion, coarsely chopped
1 pound(s) Sweet Italian Sausage (Without Fennel Seeds), casings removed
1 Batch Supermoist Cornbread, Cut into 1-inch chunks and dried at room temperature for 2 days
4 ounce(s) (about 1 cup) Pecans, toasted
1/2 cup(s) Chopped Fresh Parsley
Zest Of 1 Lemon
1 1/2 cup(s) Reduced-Sodium Chicken Broth
1 stick(s) Unsalted Butter, melted
1 1/4 teaspoon(s) Salt
1/2 teaspoon(s) Freshly Ground Pepper
Directions:
1. In a large skillet, heat oil over medium heat. Add onion and cook, stirring frequently, until tender, about 7 minutes.
2. Preheat oven to 350 degrees F. Crumble sausage into skillet and cook, stirring occasionally, until cooked through, 5 to 7 minutes. Using a slotted spoon, transfer mixture to a large bowl.
3. Add cornbread, pecans, parsley, and lemon zest to bowl and toss to combine. Add chicken broth, melted butter, salt, and pepper and toss until moistened. Transfer to a 9- by 13-inch baking dish, cover with aluminum foil, and bake for 20 minutes. Uncover and bake until stuffing is piping hot and crusty on top, about 20 minutes more.
RELATED STORIES: