20 Kids And Counting! Michelle Duggar Is Pregnant – Again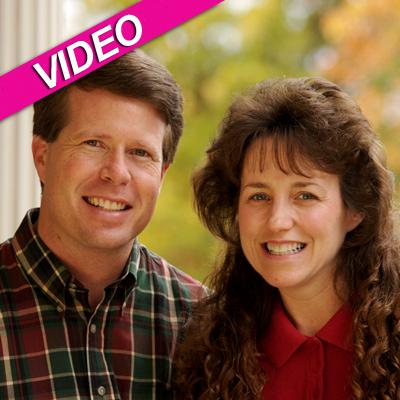 Eight isn't enough -- and apparently neither was 19.
Michelle Duggar and her husband Jim Bob made the surprising announcement Tuesday that they are expecting their 20th child.
"We are so excited," Michelle Duggar told the Today show in an exclusive interview.
Michelle -- who's three and a half months pregnant -- says she was surprised to discover that she's expecting again at 45. "I was not thinking that God would give us another one, and we are just so grateful."
Article continues below advertisement
Michelle says she's over her first-trimester morning sickness and has been craving dill pickles. She says she hasn't had any health issues and that she's been working out five or six days a week for the past year. "I'm really in better shape than I've been in 20 years," she said.
The kids thought their dad Jim Bob was joking when he told them they would have a new brother or sister, Michelle said. They lined the family up on the staircase for a photo, she recalled, and Jim Bob said, "Smile -- Mom's going to have another baby!"
"Their mouths dropped," Michelle said. "They all looked at me to see if he was joking."
Jim Bob says he's thrilled for their 20th child. "Michelle and I both feel like some of the most blessed parents in the world. Our children are so sweet... we are so grateful to God."
And, he adds, "We didn't want to stop on an odd number."
Watch the video on RadarOnline.com
Michelle says she'll find out the gender of the baby around Christmas.
MORE ON:
19 Kids and Counting
Article continues below advertisement
Their last child, Josie, suffered from gall-bladder problems as well as preeclampsia and was delivered three and a half months prematurely in order to save her life. (Josie is now a healthy toddler who will celebrate her second birthday in December.)
The Duggars' 19 children, who range in age from 23 years to 23 months, are: Joshua, Jana, John-David, Jill, Jessa, Jinger, Joseph, Josiah, Joy-Anna, Jedidiah, Jeremiah, Jason, James, Justin, Jackson, Johannah, Jennifer, Jordyn-Grace, and Josie.