Exclusive
Chat With Toddlers & Tiaras Star Paisley Dickey And Her Mom Live On Radar!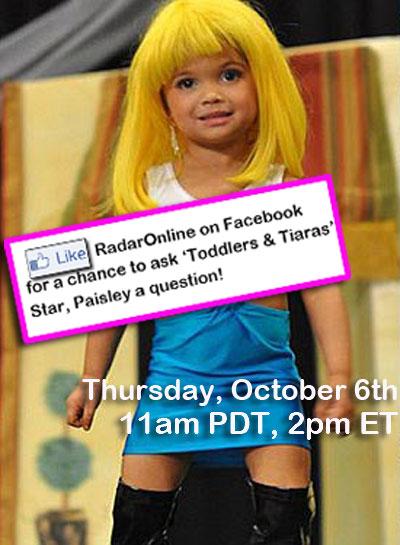 Senior RadarOnline.com Reporter
Pageant beauty Paisley Dickey and her mom Wendy are the stars from the controversial show Toddlers & Tiaras and they're going to talk all about the high pressure world of child beauty contests – live on Facebook and RadarOnline.com!
Want to know why the little girl's mom allows her daughter to get dressed up and perform in the glitzy pageants? What does Paisley really think about having her hair and makeup done? How much money has the family spent on the beauty pageants? Paisley and her mom promise to answer all your burning questions.
Article continues below advertisement
To talk to Paisley and Wendy go to the RadarOnline.com Facebook page and all you have to do is LIKE our page and you can ask away.
Paisley is the adorable little four-year-old girl who dressed up like Julia Roberts in a Pretty Woman themed outfit and she and her mom want everyone to know that she's a regular kid who just has fun in pageants. So figure out what it is you've always wanted to know about Paisley and her mom and the child pageant world and get your questions ready.
MORE ON:
Toddlers and Tiaras
Then on Thursday, October 6 at 2pm East Coast/11am West Coast log on to RadarOnline.com's Facebook page and have fun getting to know Paisley Dickey and her mom!
Watch below, or go to our Facebook page to interact with the Q&A