Hair Salon Killer To Appear In Court As Mourners Hold Vigil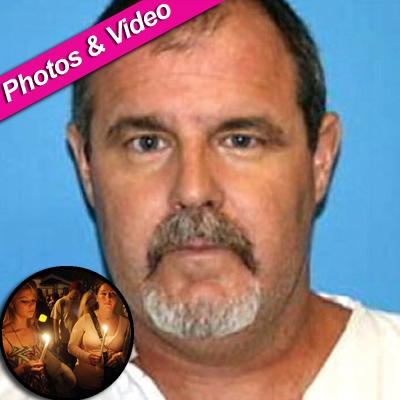 Chargers are set to be filed Friday against jilted ex-husband Scott Dekraai, who allegedly opened fire in a hair salon in Seal Beach, California Wednesday, killing eight people, including his ex-wife Michelle Fournier. Meanwhile, more than 1,500 mourners gathered in the salon's parking lot Thursday night for a vigil to honor the victims.
Rev. Jim Peak opened the vigil saying, "There are no easy answers today ... but there is a power in coming together as a community and opening our hearts to each other."
Article continues below advertisement
Police Chaplain Donald Shoemaker said: "We've all heard the expression 'Wrong place at the wrong time.' But what if you are exactly where you are supposed to be? What if you are right where you had every right to be and to be safe and secure right where you were? They got up on Wednesday morning and went to earn an honest living or do something they enjoyed. No amount of planning or decision-making could prepare them and their friends and loved ones for what would unfold."
Dekraai, 41, was being held without bail Friday on suspicion of murder.
New details trickled out about their fractured relationship, as court records indicate Dekraai and Fournier (who died in the rampage) were embroiled in a vicious custody battle over their 8-year-old son since their 2007 split.
Watch the video on RadarOnline.com
Fournier said in court docs she filed in May that Dekraai was "almost manic" in the way he hovered over their son.
Article continues below advertisement
Dekraai, she wrote, "is a diagnosed bipolar individual who has problems with his own medication and his reaction to same, and he certainly shouldn't be allowed to have unilateral and unfettered control of any and all medical and psychological aspects of our son's life."
Fournier's brother Butch Fournier said "the worst part about it was seeing the news, and seeing the awning, and knowing exactly what happened without even hearing a word -- that's what killed me."
Fournier's friend and step-aunt Sharyn White said Dekraai foreshadowed Wednesday's meltdown by threatening to shoot his ex and her co-workers weeks before.
"She said 'Sharyn, Scott has threatened to come in here and kill us,'" White told the Orange County Register.
White said while Fournier was petrified about the threats, her co-workers didn't take them seriously.
Dekraai, a one-time tug boat operator, walked with a limp as a result of a 2007 accident. He'd injured himself trying to help a female co-worker who was killed after a tow line snapped. The accident left Dekraai with severe post-traumatic stress disorder and an injured leg that caused him to walk with a limp.
The eight victims of Wednesday's shooting are: Michelle Fournier, 48, of Garden Grove; Victoria Buzzo, 54, of Laguna Beach; Randy Lee Fannin, 61, of Laguna Beach; Laura Webb, 46, of Huntington Beach; David Caouette, 64, of Seal Beach; Michele Fast, 47, of Seal Beach; Christy Lynn Wilson, 47, of Lakewood; and Lucia Bernice Kondas, 65.
A ninth person shot -- 73-year-old Hattie Stretz-- remains hospitalized in critical condition.