Jackson Family To Stage Benefit For Japanese Quake Victims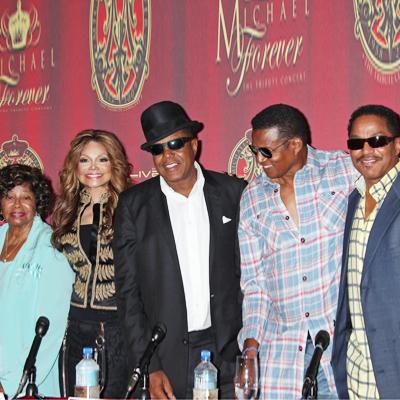 Michael Jackson's family is staging a benefit concert to help children affected by the Japanese earthquake.
Katherine Jackson -- speaking at a news conference at Claridge's hotel in London Sunday -- tearfully said: "If Michael was alive, he would definitely have done something to help the victims of the earthquake in Japan. Michael loved children, he would have felt for those children who lost parents or homes."
Article continues below advertisement
Michael's brothers will perform at the show as The Jacksons, and 81-year-old Katherine -- who is the guardian of Michael's three children, Paris, Prince Michael and 'Blanket' -- is very "glad to see them back on stage".
The Thriller singer's brothers can't wait to get to the country and do something to help the Japanese people affected by the natural disaster which hit the coast of the Far East country in March.
Jackie Jackson said: "This concert can help children. I'm glad I can put smile on their faces again."
Marlon Jackson added: "Music can bring us together. Children can't live without guidance. We want to point out kids to right direction. I'm pleased music can help other people."
Tito Jackson -- who visited Japan after the earthquake -- spoke of his belief that music can unify communities all over the world. He said: "People can become one, as human race."
Merchandising profits from Michael Jackson Tribute Live -- which will take place in Tokyo on December 13 and 14 -- will be donated to ASHIHINAGA, a charity which helps children who lost their homes or families in the March earthquake.
Tickets will go on sale on Wednesday, October 12.
RELATED STORIES:
Michael Jackson's Kids Star In Tribute Concert