Hilary Duff: 'I'm Having A Boy!'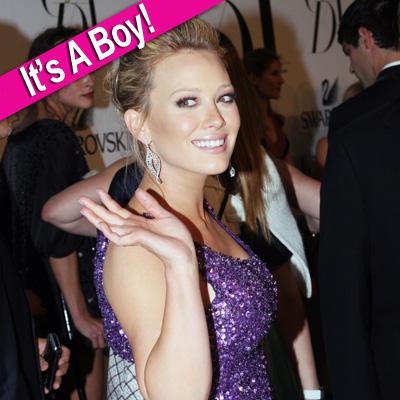 Hilary Duff is expecting a boy!
The 24-year-old singer-and-actress is pregnant with her first child with husband Mike Comrie and she has now discovered the gender of her unborn baby.
She tells TV talk show host Ellen DeGeneres on Friday's show: "I haven't told anyone yet. I wanted to tell you first. I just found out. It's a boy! I had a feeling it was a boy the whole time."
Hilary -- who is "a little over four months" into her pregnancy -- admitted she and Mike cried when they learned she was expecting, despite the fact the 31-year-old NHL player was initially skeptical that she was carrying a baby.
Article continues below advertisement
She said: "My husband makes this joke that I think I'm pregnant like 12 times a year.
"So when it actually happened he was in the shower. I just ran in and he was in the shower and I just held up the test and I was like, 'Oh my god.' And he was like, 'AHH!' He was soaking wet. We were just like a mess and started crying. It was really exciting!"
The former Lizzie McGuire star is thrilled with how well her pregnancy has gone so far.
She said: "I feel great, actually. It's been super-easy."
RELATED STORIES: