'Nailed' Hawk Is Rescued In San Francisco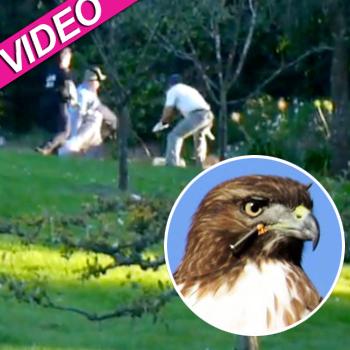 A red-tailed hawk that had been shot in the head with a nail gun was rescued from a San Francisco park on Saturday and is now recovering in a wildlife center.
After a week of attempts to capture the injured bird of prey, rescuers netted the young hawk at the San Francisco Botanical Gardens and took it to the Wildlife Center of Silicon Valley, Rebecca Dmytryk, director of Wild Rescue told RadarOnline.com.
Article continues below advertisement
"The bird is doing really well, it's underweight but very active," Dmytryk tells us.
"The nail dislodged during transport and there was no other trauma," she explained. "Once it has recovered, it will be set free."
With a nail sticking prominently through from its cheek and out through its head, concerned observers who had gotten close to the hawk earlier in the week said it had appeared in obvious pain.
After a "tough rescue," the six-month old bird was finally lured into a trap.
"We hear a lot of animal cruelty, but it's the accuracy of the shot that is surprising," revealed Dmytryk.
A $10,0000 reward has been offered for information leading to the arrest and conviction of whoever shot the bird.