Hank Williams Jr. 'Are You Ready?' Football Theme Song Out For Good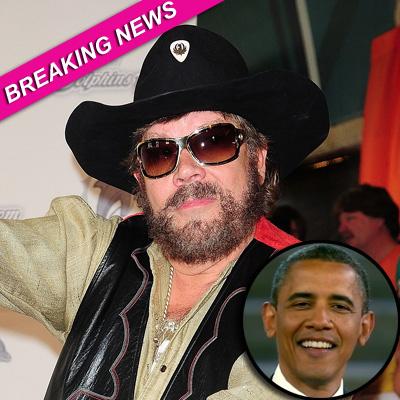 Did he quit or was he sacked?
Either way, he's gone, as Hank Williams Jr. and ESPN have parted ways after the country singer compared President Barack Obama to Adolf Hitler earlier this week, a gaffe that led the sports network to remove his "Are You Ready?" anthem from the Monday Night Football intro that same day.
"I have made MY decision ... Me, My Song, and All My Rowdy Friends are OUT OF HERE," Williams said in a statement Thursday; ESPN issued its own statement that read, "We have decided to part ways with Hank Williams Jr."
Article continues below advertisement
The entire controversy stemmed out of the singer's appearance on Monday's edition of Fox & Friends, in which Williams, 62, compared the president golfing with Republican House Speaker John Boehner "like Hitler playing golf with Israeli Prime Minister Benjamin Netanyahu," adding he considers the president and Vice President Joe Biden the "enemy."
In wake of the controversy over his remark, the Louisiana-born country crooner apologized in a post on his website Tuesday.
MORE ON:
hollywood happenings
He wrote, "I have always been very passionate about Politics and Sports and this time it got the Best or Worst of me. The thought of the Leaders of both Parties Jukin and High Fiven on a Golf course, while so many Families are Struggling to get by simply made me Boil over and make a Dumb statement and I am very Sorry if it Offended anyone. I would like to Thank all my supporters. This was Not written by some Publicist."