Dr. Conrad Murray Gets A Pedicure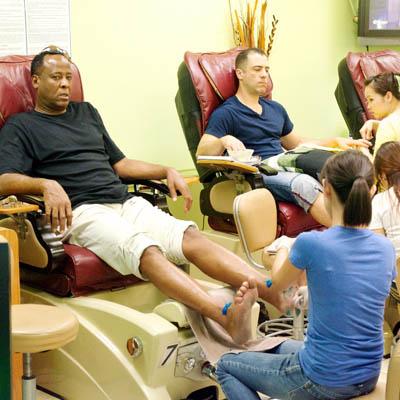 While he's fighting for his career, reputation and freedom, Dr. Conrad Murray doesn't forget the little things.
The Houston-based doctor, taking the weekend off from his court trial, was snapped at a Los Angeles nail salon on Saturday getting a pedicure. He reportedly left through the back and tipped the manicurist $5 after the procedure was complete.
Murray is currently standing trial in the June 25, 2009 death of pop legend Michael Jackson from acute intoxication of a powerful anesthetic complicated by other sedatives.
Article continues below advertisement
Prosecutors claim Jackson died from a lethal dose of Propofol, a strong anesthetic which Murray admitted to administering to the Thriller singer to help him sleep. Murray's attorneys say that Jackson might have drank or injected himself with the deadly dose while Murray, who'd just given him a dose, was out of the room.
If convicted, Murray faces up to four years in prison, as well as losing his medical license.