Nancy Grace In Jeopardy After 'Disappointing' Jive On DWTS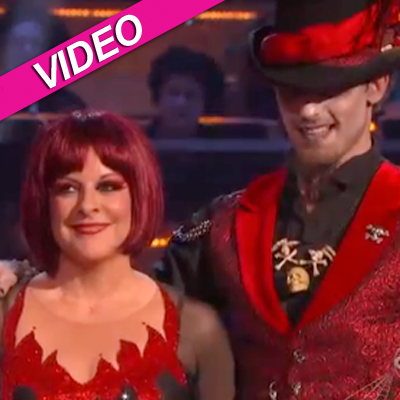 There were no treats on Halloween night for Nancy Grace.
The media pundit who famously nicknamed Casey Anthony "Tot Mom" was at the bottom of the pack on Monday's episode, as her jive set to The Devil Went Down to Georgia got only 44 out of 60 possible points from the judges.
"We have our good days and we have our not so good days," Carrie Ann Inaba diplomatically told her, adding this week was "not so good."
Article continues below advertisement
Len Goodman told Grace the jive "wasn't a good dance for" her skill set, making it "a disappointment."
The HLN host tweeted Monday, "Please don't forget us! 800-868-3405 8X's each phone & computer. AT&T txt "VOTE"! Twins n audience 2nite in costumes! Did u see? Lov NG."
Watch the video on RadarOnline.com
A twist on Monday' show was that each star was scored on an individual dance and a team dance, for a total of 60 possible points. Team Tango, composed of David Arquette, J.R. Martinez and Grace, got 23 out of 30 possible points for their efforts, while Team Paso Doble, featuring Ricki Lake, Hope Solo and Rob Kardashian, got 26 out of 30.
Halloween night's other scores were: Lake and Derek Hough, dancing the paso doble as Little Red Riding Hood for 53 out of 60; Kardashian and Cheryl Burke, tango to The Addams Family, 51 out of 60; Solo and Maksim Chmerkovskiy, samba to Werewolves of London, 50 out of 60; Martinez and Karina Smirnoff, tango to Ghostbusters, 48 out of 60; and Arquette and Kym Johnson, cha-cha to Abracadabra, 47 out of 60.
Justin Bieber will take the stage to perform two songs when Dancing with the Stars returns Tuesday at 9/8c on ABC.