Dalmatian Spots And Animal Prints! The Best And Worst Stars Of The Day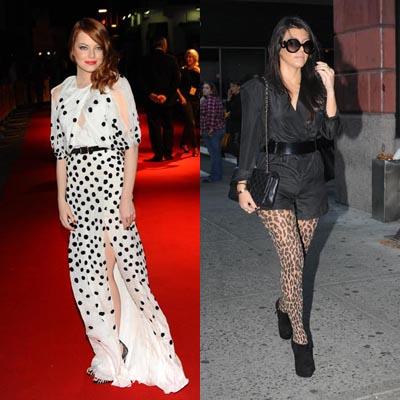 From the streets of New York City and across the pond to the English theaters of London and fashion shows in Paris, Hollywood's hottest stars were showing both East coast and European flair on Wednesday, and RadarOnline.com has all the photos in our daily fashion feature.
Emma Stone knocked the spots off the competition in a black and white Luca Luca Spring 2012 RTW polka dot gown and Brian Atwood sandals at The Help premiere in London. The Dalmatian themed dress provided a striking contrast to the actress' rich auburn hair and bright red lips.
Article continues below advertisement
The Ides Of March star Evan Rachel Wood also made a spot-on style move in polka dot tights and spiked heel ankle boots that added a daring edge to her flirty red Preen dress while out in Manhattan. A black leather biker jacket and over-sized sunglasses completed the actress' winning retro look.
Sadly, Evan's style success was short-lived when she changed into an equally daring but far less attractive belted burgundy Gucci dress and wide-brimmed 40s style hat for her film's premiere that night. While the over-the-top look was flawlessly pulled off, the actress looked like she should be chasing criminals in a Dick Tracy cartoon.
The Kardashians had a duel off-day on Wednesday when Kim and Kourtney Kardashian both over-did the animal print. Newlywed Kim's animal print dress is such an old look for the usually original star, while Kourtney's leopard print tights were too wild even for the mean streets of Manhattan's urban jungle.
British TV host Cheryl Cole was also given a style gold star, while Uma Thurman and Lady Gaga were made to stand in the corner for bad fashion behavior.
For the rest of the best and worst of the day, click here.
RELATED GALLERIES: