Adorable Trash Bag Puppy Takes His First Steps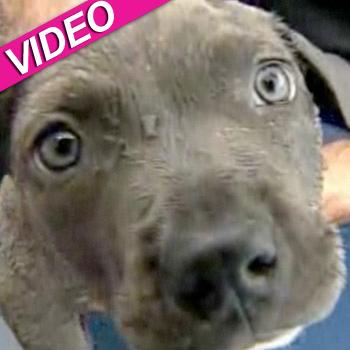 It's hard to believe that just a few weeks ago this precious pooch was so deformed she had been stuffed into a trash bag to be tossed away.
But now RadarOnline.com is happy to bring you new video of Harper, the adorable pit-bull puppy who is now thriving after being saved by a caring animal lover.
Harper would have almost certainly died if on August 31 Erica Daniel hadn't stepped in to save her.
Article continues below advertisement
"There was a man outside the Save-A-Lot selling pit-bull puppies for $50 a pop," said the woman from Sanford, Florida. "This woman approached him and noticed a noise coming from a garbage bag he was holding. She asked him, 'What's in the bag? and he said, 'Don't worry about it.'"
But luckily for Harper the woman pressed the man until he opened the bag and showed her the contents. Inside was a tiny puppy so afflicted by a rigor-mortis-like condition called Swimmer Puppy Syndrome, that she could barely walk.
Shelter workers and vets were left horrified by the poor puppy, concluding she should be put out of her misery.
And while Daniel - who fosters dogs - agreed, she decided to take her home and give her one night of affection before she was euthanized.
"I had to show her what it was like to be loved," she said. "I'd planned on taking her home that night, letting her sleep in bed with us and having her humanely euthanized in the morning."
However when she woke up and began massaging Harper's rigid limbs she soon began to improve.
A second opinion from another vet led to the conclusion that with a little love, medication and massage therapy she would live a happy and mobile life.
If she continues to improve Harper will be ready for adoption in a month.
Visit msnbc.com for breaking news, world news, and news about the economy
RELATED STORIES: