New York Firefighters Release Tribute Album To Mark 9/11 Anniversary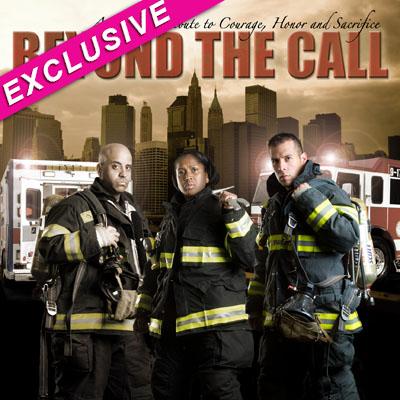 By Neil Woulfe - RadarOnline.com Senior News Director
They truly are unsung heroes – only, in this story, these heroes do in fact sing.
As we mark the tenth anniversary of the 9/11 attacks, three veteran New York firefighters have released a moving tribute album -- Beyond The Call: A Musical Tribute to Courage, Honor & Sacrifice.
NYC firefighters Frank Pizarro and Regina Wilson -- both of whom were all the front lines that fateful day on September 11, 2001 -- joined forces with a friend, fellow firefighter Billy Arce, to create the musical group, Beyond The Call.
Article continues below advertisement
To mark the anniversary of the worst ever terrorist attack on U.S. soil, the three -- all of whom are accomplished singers -- decided to raise their voices in order to raise money to help those who keep our safe country, be it firefighters, military or first responders -- and their families.
New York Yankees legend-turned-musician Bernie Williams heard about the project and volunteered to play guitar for one of the songs on the CD -- Hallelujah.
RadarOnline.com had the honor of talking with Frank and Regina about their searing memories of that heartbreaking day and what inspired them to release this heartfelt album some ten years later.
RadarOnline.com: There are certain moments in life when we all remember where we were when a momentous event happens, which certainly is the case with 9/11. Where were you?
Frank: I responded from home because I was scheduled off that morning. I met up with some other firefighters at the firehouse. The on duty crews had already left so we jumped into a truck that was at the firehouse and made our way down, not knowing what was waiting for us. It was surreal. To watch and feel the buildings fall down around us. To be there to see the destruction. To search for survivors and eventually change from rescue to recovery. Part of me died that day.
Article continues below advertisement
Regina: On 9/11 I was working in the Firehouse. We were dispatched to Ground Zero just before the first tower fell.
RadarOnline.com: What, if any, role did you play in the search and rescue efforts immediately after the attack?
Frank: I was present the day of the attacks and spent the next 3 months there daily searching for my lost brothers and others that had fallen victim to the towers. The only way that we had to actually pin point where there might be someone was through the smell. It's not something I will ever forget.
Regina: After the attacks were dispatched to a staging area near the buildings. As we were responding, we heard a loud explosion ahead of us in the Brooklyn Battery tunnel. We thought that the exit to the tunnel has exploded and caved in. We were unsure if we would make it out. The sound shook the tunnel and we thought we would be digging out rocks from in front of us. As we approaced the exit, we saw people walking toward us asking for help. Bleeding, coughing and suffering from difficulties with breathing. We unloaded our tools and emergency medical equipment to help out the people we came in contact with. We tried to help as many people as we could but we had to direct them to walk to the Brooklyn side of the tunnel to try and get out of the city. This is when the first building fell. We then proceeded to look for the staging area. We couldn't see too much in the distance through the white smoke so we looked for firefighters to ask for the location of the Chief. There was so much confusion that no one could find the area, We then proceeded to walk toward the building when me and my Boss heard on the radio, "we're under attack, we're under attack" There was a sound of a plane heard through the radio. My boss advised us to run for the Engine. We ran as fast as we could and made it back to the rig. The Boss told us to mask up. As we ran to the Engine, a big cloud of black smoke was following us. We put our air on and waited the for blackness to engulf us. We thought that we were not going to live. I just stopped and prayed for God to look over us. As the smoke started to clear we were told that the second building of the World Trade center fell. We continued to assist in the efforts. No one had heard from any of the members from Ladder 105 that work with us in the firehouse. We continued to help with the search for members and civilians, extinguishing buildings and car fires all over the area. We could not find any hydrant water, so we had to draft water from the river. We left Ground Zero at 10:00 pm that evening and returned for several weeks to assist with search and recovery. I also voluteered to take a month detail to Ground Zero to help with the efforts on a more consistent basis.
Article continues below advertisement
RadarOnline.com: Did you personally lose any family or friends in the 9/11 attacks?
Frank: I lost many friends. Mainly brothers from the department, but also civilians. These losses have served as a huge motivation for this project.
Regina: We lost 7 Firefighters from my firehouse, Engine 219 and Ladder 105. It's hard every year dealing with the lost. The members that died were very essential to the firehouse and we miss them dearly.
RadarOnline.com: For those of us who watched the horror of 9/11 unfold from afar, we can only imagine what it was like to actually be in New York that day. What is your lasting impression of that fateful morning?
Frank: It was the most eerie thing I have ever witnessed or experienced. I equate it to one of those scenes in a war movie when an explosion goes off near a person and immediately after you see that they are dazed and everything is moving in slow motion and you can't hear anything. I often have nightmares, reliving this experience in my mind.
Article continues below advertisement
Regina: I just remember that it was a beautiful day. We were all talking to each other because it was around the time to switch the night tour with the day tour. We were in the kitchen having coffee and preparing for the day. It's just hard to believe how instantly you can lose someone. It definitely taught me to appreciate those that I love and work with. For the first time the event gave me true clarity of my job and the responsibility I have to my city and community. This is a job that requires you to give ALL. It is such a true act of love to put you life down for people you don't know. It's very humbling.
RadarOnline.com: Tell me about Beyond The Call Productions. When – and why – did you form it?
Frank: I have been a singer for a large part of my life and have performed with several groups. After 9/11, I became a part of the ceremonial unit and had the honor of singing at many events. Last year, during one of those events I began a conversation with Regina about collaborating on a project that would allow us to give back to those who had given the ultimate sacrifice and those who still do. She, too, was a member of the ceremonial unit and a singer. She also was present at the towers on 9/11. We decided that not only did we wish to honor those who died on that day, but all the days before and after. And then we decided that our military also needed to be recognized. The efforts of all the people we honor with this project often tend to be taken for granted and overlooked. Our sacrifices didn't begin on 9/11 and will continue after today.
Article continues below advertisement
Regina: Beyond The Call came from an idea to help out first responders, the military and their families. We know the effect of 9/11. So many people are still struggling with health problems and families are still suffering from the effect of that day. We also wanted to find a way to thank the military who, everyday, are our first responders keeping us safe. We felt the need to do our part. We wanted to use our gift of voice to help raise money for these outstanding organizations. We are hoping that we can raise enough interest in this project to extend our contributions to other charities.
RadarOnline.com: How did you choose the songs for the CD?
Frank: We selected songs that spoke to our hearts and really conveyed heartfelt love and appreciation. We wanted songs that honored the spirit of those who stand for courage, honor and sacrifice. Not just first responders and military, but their families and others who have given their lives. All those who stand strong today after they have lost a loved one.
Article continues below advertisement
Regina: We wanted songs that had a message. We wanted each song to have deep meaning and connect with the families, the first responders, and military members everywhere. We also wanted everyone who is not a first responder to know that we care about them and appreciate everything that they have done and continue to do for military members and first responders everywhere. We wanted to honor everyone who died on 9/11, first responders, military and civilians.
AUDIO: Listen to Hallelujah featuring Bernie Williams on guitar
RadarOnline.com: Are any of the songs original?
Frank: Yes. There are three original songs on the recording. Not Alone, We Will Rise and We've Got To Live Together.
Regina: Yes. There are three original songs, We've Got to Live Together written by Vernon J. Smith and Peter Lord of the group, The Family Stand, Not Alone, written by Gil Small and Serina Guirantes of Groovecity Entertainment and our own Billy Arce, the third member of Beyond the Call, wrote an original song called We Will Rise.
Article continues below advertisement
RadarOnline.com: Is there one song that is particularly emotional to sing, and if so, why? What verse is especially haunting?
Frank: That would be To Where You Are. It was written by Richard Marx and Linda Thompson. It's hard to sing through it while battling emotion. It hits home for me because of my personal losses and experiences. I served in the military during desert storm and suffered many personal loses there as well. This project is both inspirational and therapeutic. The most haunting line is "Deep in the stillness, I can hear you speak." When you lose a loved one, sometimes in the quietest of moments your heart can almost hear that lost one speaking to you. That rings so true to me.
Regina: My favorite song that always breaks me down emotionally is Billy singing Letters from War. This song has such a strong story of the love between a mother and son. It is so endearing and beautiful. I also love the way Billy sings the song.
RadarOnline.com: Do you plan to tour also and perform the songs live?
Frank: We hope that there are many opportunities to take our message of hope and gratitude on tour. We'd like to tour nationally and internationally to make the world aware of those who sacrifice everyday so that all can live in peace of mind.
Article continues below advertisement
Regina: Yes, we plan on touring and would love to share our experiences with others and raise money for the charities. I am definitely ready to get out there to meet and encourage people.
RadarOnline.com: The Beyond The Call musicians have an impressive resume, including performing with Barbara Streisand and James Ingram and for President George W. Bush and Prince Harry. Tell me about that.
Frank: As I stated earlier, we are all singers in our own right. We have been fortunate enough during our lives to have had the opportunities to sing. Our exposure has opened up some amazing chances to sing for presidents and dignitaries. To sing with and for other artists. I had the honor and still do perform as the lead singer for The Platters with Herb Reed (an original member). All of these experiences have been humbling. We're just regular people doing what we love.
Regina: It was a honor to sing for President Bush at the 5th anniversary of 9/11 during his visit to New York. We had a ceremony in Manhattan at Ladder 18 where I sang Amazing Grace. It was a wonderful experience. The President and his wife were very gracious and took pictures with each of us. I also sang for Prince Harry twice at the Veuve Clicquot Polo Match at Governor's Island in New York. It was a honor to sing and to meet him. The Prince actually asked to meet me! It was humbling because I was waiting by his car to take a quick picture when is his security came looking for me to meet him. I'm hoping that we have the honor to sing for our current President as well and also sing before the troops.
Article continues below advertisement
RadarOnline.com: Immediately after 9/11, people talked about sensing a change in New York – that the city had come together in a way like never before. As we approach the tenth anniversary of 9/11, is there still that sense of community – or has life returned to normal, in a way?
Frank: Tragedy has a way of connecting the hearts of people. We are built on a foundation to survive. New Yorkers have that instinct of survival. We are all different, with different ways of looking at things and different opinions but it seems that when tragedy strikes, we put aside our differences for the good of the whole. Not just New Yorkers, but our nation as a whole. I would love to see that at other times as well.
Regina: I believe it's a little of both. In order to deal with such a tragedy you have to keep living and return to some type of normality. You still have to take care of your family and still have to believe in life. I also know FOR SURE that in the face of tragedy this city and this country will always rise to the occasion of helping and caring for one another. We have proven that time and time again with many other devastations that have occurred. It is encouraging to know that people out there have a little bit of First Responder running thru their veins.
Article continues below advertisement
· FDNY Foundation which promotes fire safety in New York City and educational programs for members of the FDNY and their families.