Woman Says Cop Fired After Being Caught On Tape Having Sex On The Hood Of A Car Also Propositioned Her!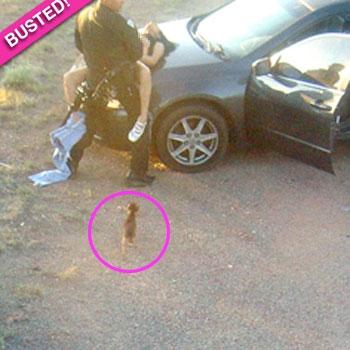 A woman caught in a traffic stop by disgraced New Mexico State Police office Bert Lopez told a court he propositioned her while she sat in the back of his patrol car.
As RadarOnline.com previously reported, Bert Lopez was canned by the New Mexico State Police after video emerged of the veteran cop having sex on the hood of a car. He was in full uniform, including his gun belt.
Adding to the bizarre scenario, a chihuahua -- possibly belonging to the unidentified woman -- was spotted in the video, intently watching the action! Lopez, the woman and the tiny dog were all caught by a surveillance video system set up to stop vandalism in a Santa Fe area park.
Article continues below advertisement
Unfortunately for the authorities, Lopez was also the officer who made an arrest in an unrelated case that came to trial just days after he was fired.
Elizabeth Enriquez testified on Wednesday that Lopez pulled her over for "failing to maintain lanes." After admitting she'd had two drinks, he arrested her, reported KOB-TV .
On the way back to the station house, Enriquez said Lopez told her he was attracted to her and that she made his "car smell good." She also told the court Lopez asked his she ever thought about cheating on her boyfriend.
Lopez wasn't in court for the trial. Enriquez was acquitted after only an hour of jury deliberations.
RELATED STORIES: