LeAnn Rimes In Wild Animal Print Dress Takes On New York With Eddie Cibrian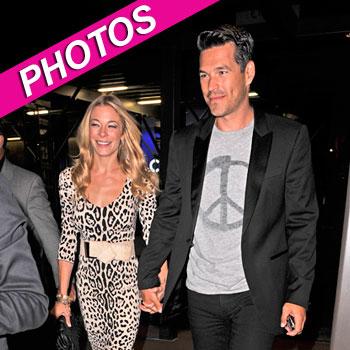 LeAnn Rimes and Eddie Cibrian enjoyed a night on the town in Manhattan on Friday night, and RadarOnline.com has pictures of the new bride in an eye-popping animal print jumper.
LeAnn and Eddie were in New York City for the Vanity Fair Presents Fashion in Film Party and they both dressed up for the stylish celebration, but unfortunately the country star couldn't leave the constant speculation about her weight behind her.
Article continues below advertisement
It was a rare sight to see LeAnn covered up after all the recent bikini photos of her showing off her extremely thin figure, but even her long-sleeved animal print dress couldn't hide her skinny frame, especially with a wide belt that accentuated her tiny waist.
As always, the 29-year-old took to Twitter to share the experience with her followers, and forever adamant that she does eat and isn't starving herself, Rimes wrote about her Greek dessert fest.
"5 baklava's later..... I'm not kidding! Wow, Milo's Greek in NYC.....incredible! Night night," she informed her fans, along with details on her gut-busting breakfast earlier in the day.
"LOVE being able to get a southern breakfast in NYC! Bubby's rocks...thats what I had and eggs with spinach and jalapenos.....paying for that though LOL."
She made sure to get some exercise to balance out all the eating, "I walked probably 2 1/2 miles around NYC in heels yesterday. My legs are super sore....ouch!" she tweeted on Saturday.