Kate Bosworth Talks Blue Hair, Bling & Straw Dogs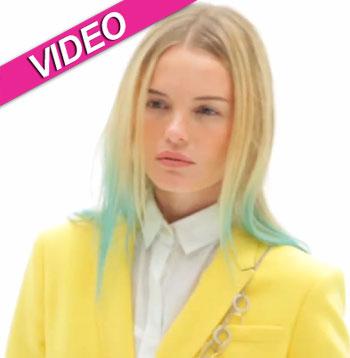 By Leah Ornstein - RadarOnline.com Style & Beauty Editor
With her fearless fashion sense, flawless figure and doll-like face, Kate Bosworth has been one of the most talked-about babes on the red carpet since her breakout role in Blue Crush.
In a brand new interview, which launched today on StyleCaster, the beautiful blonde opens up about everything from her passion for fashion and her jewelry line JewelMint to her new movie Straw Dogs and what is playing on her IPod - and even reveals why she recently painted her hair blue!
Article continues below advertisement
RadarOnline.com has the splashy video - as well as the interview highlights!
While most people get their passion for fashion from the women in their lives, Kate reveals that it was the men in her family who inspired her.
"My grandfather and father both worked in retail. So I feel like I've always been around fabrics and textures. From a very young age that was a part of my life . . . it feels like a natural fit to be interested in the fashion industry. My father really taught me what quality meant and the importance of it."
The actress, who launched her reasonably priced jewelry line, JewelMint, with her stylist and BFF Cher Coulter a few years ago, grabbed headlines last month, when she hit a Coldplay concert in Los Angeles with a new man on her arm - and blue streaks in her hair. And now she reveals why she decided to dye her locks - for the StyleCaster shoot!
"The blue hair came about because we really loved the pink hair from Givenchy, and we were both really attracted to that ombre color look. We decided to pay homage to that slight grungey look," she explains.
Article continues below advertisement
As for her new movie, Straw Dogs, which is set to hit theaters on September 16, Kate explains that the role took a toll on her.
"It was really exhausting, because emotionally it's an intense movie, so you just get into that rhythm and it's tough when you're having to live in a certain emotional state of tension for a sustained amount of time."
To read the rest of Kate's interview with StyleCaster, click here.