Exclusive
Kat Von D Is Stressed & Losing Her Hair; Wearing Wigs!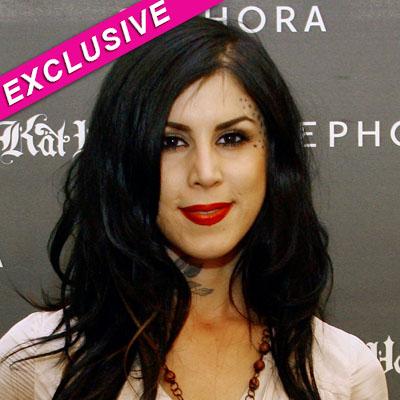 By Amber Goodhand - Radar Reporter
Kat Von D is so stressed out that it's beginning to take a toll on her hair, which RadarOnline.com has exclusively learned is falling out, pushing the LA Ink star to start wearing wigs.
According to a source close to the 29-year-old, breaking-up and then getting back together with fiancé Jesse James, along with her TLC show being canceled, have all attributed to the stress that's causing her to bald at such a young age.
Article continues below advertisement
"Kat totally has bald spots and it's from stress," the source told RadarOnline.com. "It's worse than anyone her age should have.
"The combination of all the treatments she does to her hair and stress have finally caught up with her. She's started ordering wigs along with the hair pieces and extensions she already uses."
Kat infamously started dating Jesse after his very public cheating scandal on then-wife Sandra Bullock, and after his divorce to the Miss Congeniality star was final he was engaged to Kat just six months later.
"I feel really bad for her because the bald spots are horrible," the insider said. "The stress of losing her hair is only stressing her out more and making it worse!"
Kat and Jesse broke off their engagement in July and as RadarOnline.com was first to report, there may have been another woman involved.
The two have since reconciled but Kat was bombarded with bad news again when TLC canceled her show, telling RadarOnline: "TLC has decided that the current season of LA Ink will be its last. The network is proud of what the series has accomplished in its four seasons, following Kat Von D's journey as an artist from Miami to Los Angeles."