Jimmy Fallon And Stephen Colbert End Their Bromance With 'Somewhere Out There' Duet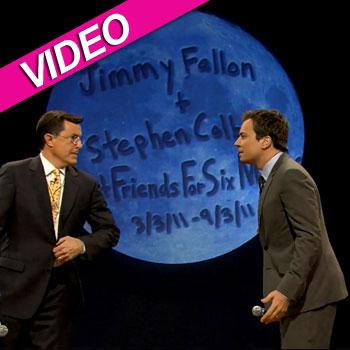 TV's wackiest bromance between Jimmy Fallon and Stephen Colbert has come to an emotional end, and RadarOnline.com has the video.
The talk show hosts had a 'BFF-for-six-months pact,' making several appearances on their respective shows. But the six months is over and it's time to move on.
Not that the parting was easy for either of the funnymen. And last night on NBC's Late Night With Jimmy Fallon it came to a somber conclusion.
Article continues below advertisement