Fighter Jets Surround 2 Commercial Flights After Passengers Take Long Bathroom Breaks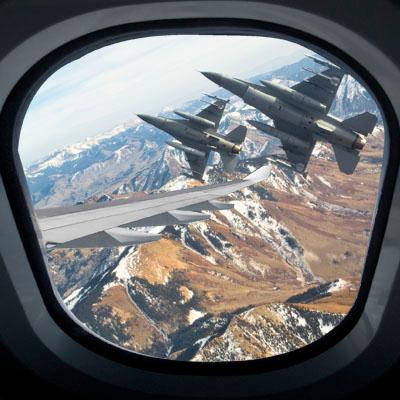 The friendly skies were on guard on Sunday's 10th anniversary of the 9/11 attacks, as fighter jets were summoned to shadow two separate commercial flights after passengers spent inordinately long stretches of time in the cabin restrooms, provoking suspicions of foul play.
First, on a Denver-to-Detroit Frontier Airlines flight, airline spokesman Peter Kowalchuck said crew members noticed two people spending "an extraordinarily long time" in the bathroom.
Article continues below advertisement
While ABC News reported the couple had been "making out," the FBI subsequently said that the two people never used the plane bathroom at the same time. The FBI said that one male passenger fell ill, and another male passenger happened to follow.
A woman who sat in her seat throughout the flight was also questioned in connection with the incident when the flight landed at Detroit's Metropolitan Airport; all were eventually released, and no arrests were made.
Later in the day, following a Los Angeles-to-New York American Airlines flight, three passengers were questioned and released after making repeated trips to the restroom.
Metropolitan Airport spokesman Scott Wintner said the protocol taken was the same regardless of Sunday's grim anniversary.
"Regardless of why it was triggered, whenever we get a radio call of a security problem on board, our response is the same one we would have had yesterday, tomorrow," Wintner told the AP. "We always react as if it's the end of the world.
"If it isn't, so be it."
RELATED STORIES: