Diana Nyad's Treacherous Shark Infested Cuba To Miami Swim Continues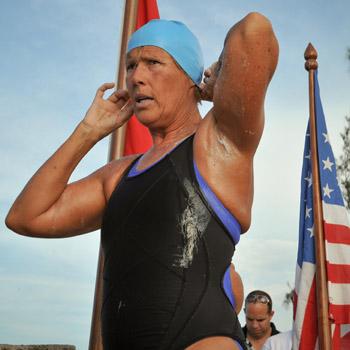 She's hoping it's third time's a charm, but long distance swimmer Diana Nyad has already become the victim of a predator of the sea, less than 24 hours into her challenge to become the first woman to swim from Cuba to Florida without a shark cage.
RadarOnline.com has been following the progress of the 62-year-old who is making her third attempt at the 103-mile swim.
However despite only starting yesterday, she has already faced a barrage of troubles.
Article continues below advertisement
One hour after starting the swim she suffered debilitating stings from a Portuguese Man O War jellyfish which stung her arms, body and face.
"She is trying to clear herself of tentacles and continue to swim," her team tweeted just after it happened.
She was then forced to tread water for an hour as she recovered from the painful stings. But that wasn't the end of her troubles.
In the early hours of the morning Nyad complained she was having trouble breathing and had to stop swimming to get a prednisone shot and some oxygen.
Luckily after another hour of treading water she was able to continue swimming.
Nyad first attempt at the terrifying feat was made in 1978, when she was forced to quit after 42 hours due to giant waves.
She tried again on August 8 this year but failed just before the 30th hour and was dragged from the sea vomiting and suffering from shoulder pain and asthma.
"This weekend is my magical moment," she tweeted on Friday night before she began. "I can't imagine any other ending than making it to the other shore."