Amy Poehler: Steve Carell Was 'Totally Robbed' At Emmys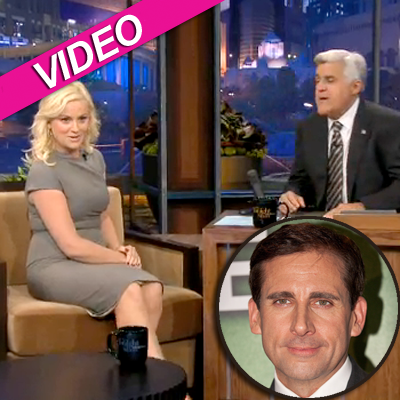 Amy Poehler said Steve Carell deserved to win the outstanding lead actor award at Sunday's Emmy Awards for his last season of The Office.
"It's crazy to me," Poehler, appearing on The Tonight Show Wednesday, said of the six-time nominee, who left the NBC hit earlier this year. (He lost out on the honors to The Big Bang Theory's Jim Parsons.)
Carell "was totally robbed -- he does such amazing work and everyone knows it," she said.
Article continues below advertisement
The 40-year-old star of Parks & Recreation also explained how she orchestrated a beauty pageant spoof during Sunday's Emmy Awards, where she and the other nominees for best lead actress in a comedy assembled on the stage with roses and a tiara in tow for the eventual winner (who turned out to be Mike & Molly star Melissa McCarthy).
Poehler said she was at dinner with fellow nominee Martha Plimpton when they were talking about how stodgy the Emmys had become compared to how they used to be. She remembered a classic routine from funnymen Tim Conway, Harvey Korman and Chevy Chase, in which Chase got up when his name was announced.
"They all followed him, and they all walked to the stage and the two losers sat down," Poehler recalled, saying she was spurred to execute an updated version of the routine.
Watch the video on RadarOnline.com
"Martha said, 'I'd do it,' and then we started brainstorming, 'What if we make it like a Miss America pageant? We called up all the ladies, and because they're such kick ass broads, everybody said yes, so we did it."
Article continues below advertisement