FDNY Firefighters Who Died On 9/11 Are Honored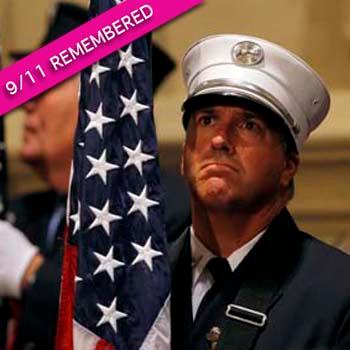 Families, friends and total strangers gathered at St. Patrick's Cathedral in New York Saturday to honor the New York City Fire Department heroes who died on September 11, 2011.
So many arrived -- including firefighters from all over the country -- that many had to remain outside the overflowing cathedral and listen to the service on loud speakers.
An honor guard, with each member carrying a flag, represented the 343 members of the FDNY who died trying to save others in the attacks on the World Trade Center.
Article continues below advertisement
Many of the firefighters who attended from as far off as California, Nevada and Florida, wore their uniforms to the emotional ceremony.
Patrick Lyons, born shortly after his father, Lt. Patrick Lyons of FDNY Squad 252 was killed, spoke movingly of the dad he never knew.
I know you are in heaven and always watching over me," Patrick said. "I love knowing you are a hero. I wish I could have met you."