Exclusive
Vanessa Minnillo's Mother: I Wasn't Invited To My Daughter's Wedding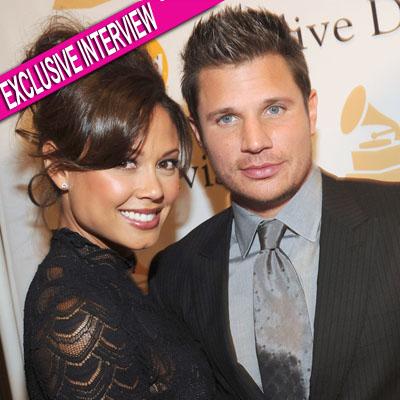 By Alex Burton - Executive News Editor & Jennifer Kamm - Reporter, Star magazine
Vanessa Minnillo is living the high life having recently married her pop star husband, Nick Lachey, but Star magazine has learned that her estranged mother, who was not invited to her daughter's wedding, lives in a lowly trailer park and has not seen her daughter since she was 9-years-old.
In fact, Helen Bondoc had no idea that her gorgeous 30-year-old daughter was even getting married. And when Star spoke with her exclusively at her South Carolina mobile home 12 days after Vanessa and Nick's July 15 wedding in the British Virgin Islands, Helen struggled with her emotions.
Article continues below advertisement
"Oh my goodness, she's beautiful!" Helen, 57, told Star as she grew misty-eyed while looking at photos of Vanessa and Nick on their St. Barts honeymoon.
"She's changed so much, though I can still see that little scar on her forehead from where she picked at her chicken pox when she was a child.
"I didn't have a clue that Vanessa was getting married. We last spoke about 12 years ago, on the phone. I just wanted to talk to her and tell her everything straight about my life. But I still think about her all the time, and I still love her dearly."
Helen met and married Vanessa's father, now retired U.S. Air Force crew member Vincent Minnillo, in the mid-1970s at Clark Air Base in her native Philippines.
They also adopted a son, Vince Jr., who's two years older than Vanessa.
"Our relationship wasn't that sexual," Helen says of her ex. "I think we both just wanted to be with somebody."
A year after Vanessa was born, they moved to the Los Angeles area, but Helen and her hubby — who once likened their relationship to "World War III" — were soon on the outs.
Article continues below advertisement
"Helen had a terrible temper," a family friend tells Star, "and eventually she and Vincent were at each others' throats."
They divorced in 1986; Helen got custody of little Vanessa and Vince Jr. and soon remarried another serviceman.
As the family moved around during that relationship, Helen tells Star: "I worked as a waitress at a strip club in Florida, and as a hostess at the Palomino strip club in Las Vegas. I made a lot of money."
Helen and the kids followed her husband to Turkey when he was assigned there, but they were sent back to the U.S. in 1991 after the Gulf War broke out.
Helen's second marriage ended soon after — and so did her relationship with Vanessa after she dropped her and her brother off at their father's house in Charleston, S.C.
"Helen said, 'Keep them for now,' " Vincent recalls. "But she never came back."
Article continues below advertisement
Vanessa has admitted that she became "sad, confused and emotional" about being abandoned by her mom but otherwise has remained tightlipped about why they've never ended their estrangement.
As for Helen, she tells Star: "It would be nice to have a relationship with her now, but I don't know how she'd feel if I called her."
And if Vanessa and Nick had kids? "It would be a happy occasion to meet my grandchildren. Whatever she's doing today, I hope she's happy with this man and that he treats her well. She's still my little girl."