Daniel Craig And Harrison Ford Get Smurfed At The Box Office!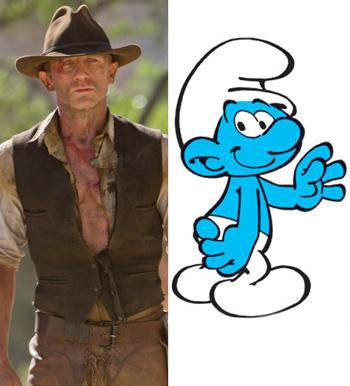 No one saw this one coming. The kid-friendly 3D pic The Smurfs has literally tied Cowboys & Aliens at the box office.
With Daniel Craig and Harrison Ford starring, Cowboys & Aliens was expected to be a mega-hit but it underperformed, all the experts agree, by bringing in an estimated $36.2 million in its opening weekend.
The Smurfs, with Neil Patrick Harris starring along with a bunch of tiny blue animated creatures, is expected to bring in the exact same amount!
Article continues below advertisement
Even if the final numbers available Monday morning put Cowboys & Aliens slightly ahead, the result is still being considered the box office upset of the year.
Smurf happens!
RELATED STORIES: