The Situation Shows Off Pickup Moves On Jesse Eisenberg, Says He & Snooki 'Really Close, Close Friends'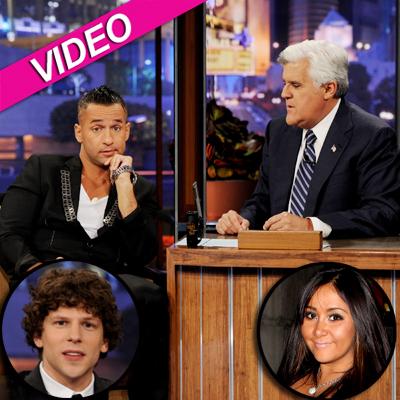 Fresh off Jersey Shore's highest-rated season premiere ever, Mike "The Situation" Sorrentino appeared on The Tonight Show with Jay Leno Tuesday, showing off his pickup techniques on fellow guest Jesse Eisenberg and opening up about his relationship with Snooki.
Jay Leno, catching up with the reality star about his experiences taping the show's fourth season in Florence, Italy, asked The Sitch to demonstrate his pickup moves on "an attractive Italian woman."
Article continues below advertisement
Since none were around, the show's previous guest, The Social Network star Jesse Eisenberg, acted as a stand-in.
Sorrentino told Eisenberg, "I would have to say, 'Ciao, signorina.' That means, 'Hello miss,' in Italian ... I would go in for some sort of compliment and I would say, 'Che dolce,' which means, 'You are sweet.'
"At that particular point, I'd say, 'Let's go to the house.'"
Leno asked The Situation about what's going on with he and Snooki, as it appeared The Situation was warming up to his pint-sized co-star in the show's opener, despite the fact she was already in a relationship at the time.
"Listen, I don't know if she's got a boyfriend or not, you gotta ask her ... I'm not in a relationship," The Situation said. "Every now and then, or every other season, she has a boyfriend, so I can't really keep up."
Leno asked The Situation if he had feelings for Snooki, to which The Sitch said, "We are really close, close friends, yeah -- and we have hooked up before as well ... season one, we hooked up in the jacuzzi."