Exclusive
Troubled Redmond O'Neal's Arrest No Surprise To Those Close To Him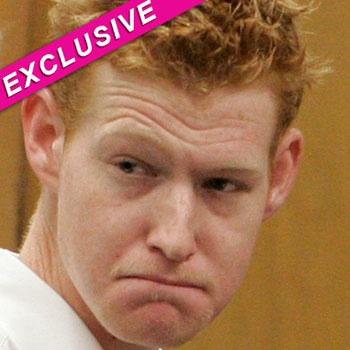 By Jen Heger - Radar Legal Editor
News of Redmond O'Neal's arrest hasn't come as a surprise to people close to the son of Ryan O'Neal and the late Farrah Fawcett, RadarOnline.com is exclusively reporting.
Redmond, who is currently on felony probation for heroin possession, hasn't been attending AA meetings since late last year, and has been hanging out with unsavory people, according to multiple sources.
Article continues below advertisement
"Redmond stopped going to meetings late last year. Redmond stopped all communication with his sponsor, and began hanging around with a very bad crowd lately," a source close to the situation tells RadarOnline.com.
"Redmond's girlfriend isn't a good influence on him either, and she was with him when he was arrested in Santa Monica today."
Redmond's volatile relationship with his father Ryan, has also grown increasingly strained of late.
"Ryan and Redmond fight constantly. The two are at each other's throats all the time. Ryan wanted Redmond to participate in the reality show that he and Tatum did for Oprah Winfrey's network, but he refused," the insider reveals. "Redmond hates the spotlight and is a very private person -- with a lot of demons."
Redmond is currently behind bars in a Santa Monica jail, and that isn't likely to change anytime soon.
Article continues below advertisement
"It's very likely the DA will file charges against Redmond and that case will be heard at the LAX Airport Courthouse. However, the bigger problem for Redmond is the fact that he is on felony probation for a heroin possession case in Santa Clarita," the source says. "The DA's office will likely file a probation violation against Redmond, and that will be heard in Santa Clarita. He will most likely have a probation violation hearing because of his new arrest."