Probation Official: 'Casey Anthony Will Be Treated Like Any Other Offender'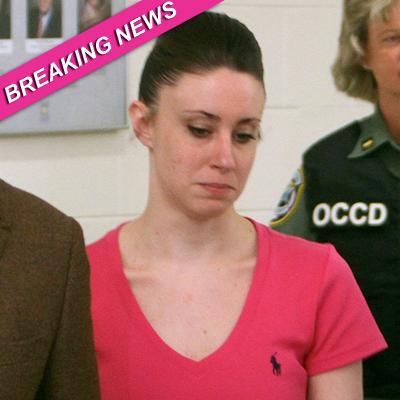 We're learning new details about Casey Anthony's surrender to the Florida Department of Probation Wednesday night to begin serving her one year of supervised probation for check fraud.
Corrections spokeswoman Gretl Plessinger held a news conference Thursday morning in Tallahassee, FL. and called Anthony's situation "challenging" since there have been death threats against the notorious 'Tot Mom'. Because of that, the Department of Probation will not release the location where she is staying – however, she also said Anthony "would be treated like any other offender."
Article continues below advertisement
Plessinger said that Anthony met with her probation officer Wednesday night and that her attorneys were not present. She also indicated Anthony slipped in, without any commotion.
The official said that, per the court order, Anthony must check in with her probation officer within the first five days of each month during the course of a year.
The probation officer -- assigned to Anthony -- will also make random contact with her.
In addition, Anthony must pay the state of Florida 20 dollars a month for the cost of processing her probation.
George And Cindy Anthony At Caylee Memorial: 'It's Hard To Come Here'
Under terms of her probation, Anthony can not own a gun, and she cannot use "intoxicants" (alcohol) to excess and cannot break the law.
If she wants to move out-of-state, the probation official says the Department of Probation will put together a packet of information about her case and send to other state, where she wants to move. The other state will then have to decide whether to accept that person.
Article continues below advertisement
Usually, people on probation have to actively seek work or go to school, but because of security concerns, Anthony will not be required to find a job.
Anthony has been in hiding since being found not guilty of first degree murder, manslaughter, and child abuse in the death of her 2-year-old daughter Caylee.
She was forced to return to Florida to serve one year probation for check fraud after a last-ditch appeal to overturn the court order was denied Wednesday.