Must Casey Anthony Return To Orlando? Judge Says 'It's A Mess'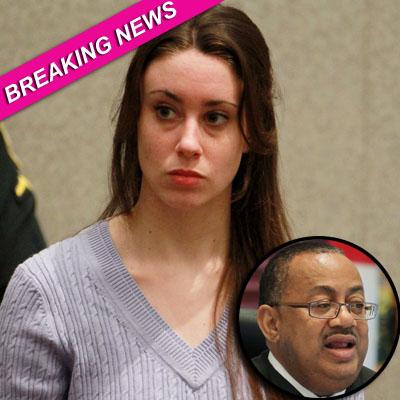 By Neil Woulfe - RadarOnline.com News Director
Casey Anthony doesn't have to return home to Orlando, Florida – at least for the time being.
Judge Belvin Perry, during an emergency hearing Friday morning in Orlando, said he'd need more time to consider the facts before ruling on whether or not Casey Anthony must return home to serve probation for check fraud.
"I'll be the first to admit this is not a very clear cut issue ... you've given me a lot to think about " Perry said, calling it "a legal maze" and "a mess".
Article continues below advertisement
Anthony who was acquitted last month in the death of her 2-year-old daughter, Caylee, didn't attend the hearing.
Here's how the whole legal fiasco went down:
On January 25, 2010, Anthony was given probation by Judge Stan Strickland after she'd pleaded guilty to charges she stole checks from a pal. The confusion set in as Florida's Department of Corrections thought that Anthony could serve the probation while in custody awaiting her murder trial.
Strickland said last week he wanted Anthony to serve the probation after the sentence -- not during. Strickland signed a revised version of the order to convey that on Monday, then recused himself from the case Wednesday.
Last week, Perry said he'd wanted Anthony, 25, to serve her probation after she was released (which would mean she would have to return to Orlando, Florida).
Department of Corrections probation supervisor Susan Finigan testified Friday that proper probation procedures were practiced in accordance with Anthony's case. Finigan added that while it's not the usual arrangement to have someone in custody serving their probation, "It does happen on occasion."
MORE ON:
Judge Belvin Perry
Article continues below advertisement
The Department of Corrections deemed Anthony's probation was concluded this past January 24.
In Friday's hearing, Anthony's legal team claimed their client's life would be in grave danger if the state forces her to serve a year's probation as part of the check fraud conviction, adding they'd demand state-funded security services for America's most notorious mom, in the face of numerous threats aimed at her.
Defense attorney Jose Baez complained about the issue on a recent edition of The Today Show.
Redmond O'Neal's Heroin Arrest -- See The Mug Shot
"This thing is over and done," the Florida-based lawyer said. "And for some reason things seem to keep coming up again for no apparent reason, for absolutely no apparent reason, other than let's just keep this thing going, let's just keep this madness going and engage in the circus-like atmosphere that is called the Casey Anthony case."