Kiowa Gordon Arrest Not For DUI, Rather Outstanding Warrants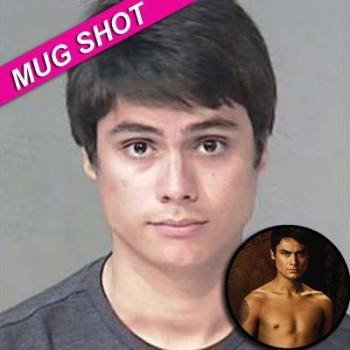 Police are now saying Twilight werewolf Kiowa Gordon was not arrested for a DUI this week, but rather for a prior warrant connected to a DUI drug arrest last year.
Gordon, 21, was a passenger in a car registered to him early Monday when Tempe, Arizona police pulled him over, officials said.
During a registration check, police determined the actor had a pair of unresolved warrants on his record -- one in Mesa, one in Scottsdale -- and arrested the actor on the spot. Tempe police handed him over to Mesa authorities for processing.
Article continues below advertisement
Gordon was arrested in Mesa in September 2010 for driving under the influence of drugs, after arresting officers suspected he'd been under the influence of marijuana while behind the wheel.
At the time, Gordon was processed and given a citation to show up at Mesa's municipal court but he did not, causing the court to issue a warrant this past February.
The actor was not charged with any new infractions on Monday, authorities said.