Kim Kardashian Shows Off Heart Shaped Psoriasis Patch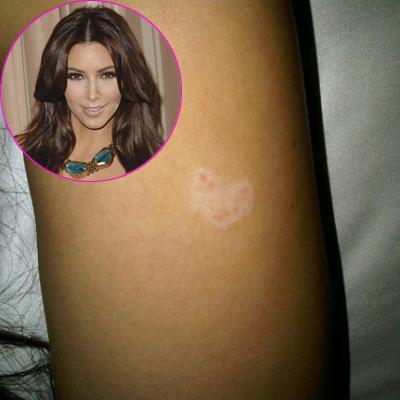 Kim Kardashian isn't shying away from talking about and showing off evidence of her psoriasis condition.
With just a week to go before her wedding, on Saturday the glamorous reality star and fashion designer shared with her fans an odd psoriasis patch on her upper arm.
"Kinda funny and gross but look at my heart shaped psoriasis!" Kim tweeted. "LOL Had to share!"
As RadarOnline.com previously reported, Kim went public about her skin condition -- it causes flaky red skin with silver-white patches, and can be extremely uncomfortable -- on an episode of Keeping Up with the Kardashians.
Article continues below advertisement
Experts have applauded her candor in bringing more attention to the condition, and Kim has been a great sport about it.
But there's no doubt she's hoping she won't have any flare ups on August 20 when she walks down the aisle with Kris Humphries.
RELATED STORIES:
Khloe Kardashian Puts The Rumors To Rest -- Kim's Booty Is Real!
Kim Kardashian Outraged At Bret Lockett Rumors - See The Video