Kate Gosselin Tries To Pick Up Hunky Guy In New Episode Of 'Kate Plus 8'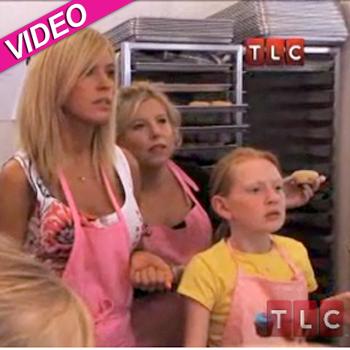 Kate Gosselin paid a visit to Georgetown Cupcakes for a new episode of Kate Plus 8, and tried her best to get a hunky bystander interested in her. Not only did the divorced mom of eight fail to light the guy's fire, he had no idea who she was!
Kate and her kids were all in the shop -- home of another TLC show, DC Cupcakes -- when she spotted the man in a crowd of people out on the sidewalk watching the taping. She sent her bodyguard Steve Neild out to ask the cutie to come in.
Article continues below advertisement
He did, and when Kate offered him a delicious cupcake, he didn't ask for her phone number -- all he wanted to know was if he could get his treat gluten-free!
The cameras caught up with the unsuspecting bystander when he left the shop, and asked him if he knew who he'd just been talking to.
His answer is priceless, and you can watch the scene here on RadarOnline.com.
Kate Plus 8 returns to TLC Monday night with back-to-back episodes.