Exclusive
Hot Mama! Jessica Alba Debuts Her Post-Preggers Bod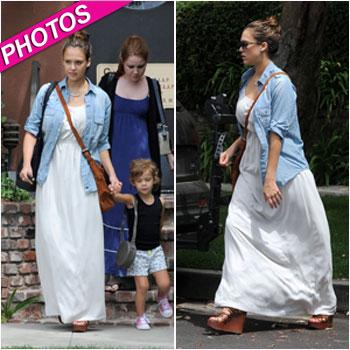 Only a bigscreen bombshell could drop baby-weight so fast!
Less than two weeks after giving birth to her second daughter, Haven Garner Warren, Jessica Alba stepped out in Los Angeles on Friday, showing off her already slimmed down body - and RadarOnline.com has the photos.
Leaving her house with Honor Marie, the Spy Kids star looked fabulous in a denim shirt and white maxi dress, making it hard to believe that just a few weeks earlier she was sporting an enormous baby bump!
Article continues below advertisement
Jessica, who continued to work out throughout her pregnancy by taking prenatal yoga classes, recently dished to Lucky Magazine about her post-preggers weight loss plan.
"I have a hard time with portion control, so I have 1,200 calorie meals delivered," Jessica revealed, explaining that she will do at least 45 minutes of cardio a day. "But I also work out, so basically I'm starving - it sucks. I drink a lot of water."