'The Situation' Teaches The Language of Love To Ryan Seacrest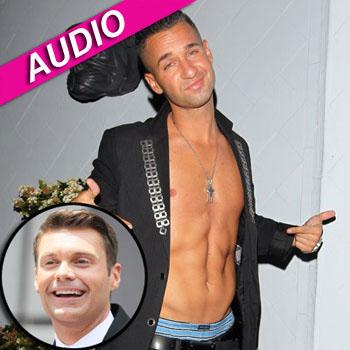 As one of reality TV's biggest lady killers, no one expected a little thing like not speaking Italian to stop Mike "The Situation" Sorrentino from picking up women while the Jersey Shore filmed in romantic Italy.
The Sitch went on the Ryan Seacrest show on Wednesday to give the radio and TV host a few tips at romancing the ladies abroad, and RadarOnline.com has details of the raunchy interview.
Article continues below advertisement
"I eventually learned a little bit of the language and was able to understand it," he explained. "As we got more connected I started to understand them more then was able to say phrases and almost speak. The hand directions, pointing, eye contact….the language barrier wasn't that hard!"
Even the unflappable Sitch was shocked when Ryan's sidekick, Ellen K, asked: "When an Italian girl moans, does it sound the same as an American?"
Article continues below advertisement
Of course, the bed-hopping guido knew the answer! "It's different, the girls in America scream 'Oh my god, the Situation!' but in Italian it's 'La Situazione," revealed the 30-year-old Casanova.
The interview quickly turned from women overseas to those closer to home when Seacrest asked if Mike if there was still a spark between him and co-star Snooki.
"The relationship between me and Snooki – as you guys know, we've hooked up in season one in the jacuzzi. Everyone knows that, but after that…no one really knows anything after that," replied Sorrentino cagily.
Without saying whether anything else had happened between the pair since, Mike admitted that the fact that Snooki - or any other girl - had a boyfriend wouldn't stop him from jumping into bed with them.
"It's none of my concern if a girl has a boyfriend or not, if a girl is flirting with me it's none of my concern. How do I know if she has a boyfriend or not? Does it say 'Boyfriend' tattooed on her chest?" he said light-heartedly.
Article continues below advertisement
Along with wooing women on both sides of the Atlantic, the Situation recently signed a six figure deal for his own line of tuxedos and formal wear, as well as a chain of tanning salons in Florida.
As for his Jersey Shore career, the reality star isn't making any more commitments to that then he is in his love life.
"Who knows? That could have been my last, I don't know. I have my own development deal and my own show coming very shortly."