Feuding George Lopez & Lindsay Lohan 'Hug It Out' At Kardashian Wedding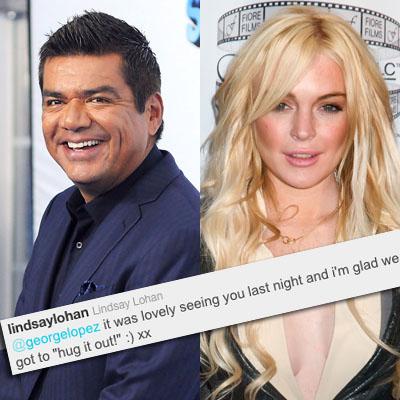 George Lopez and Lindsay Lohan's rivalry came to an end at this weekend's celebrity-laden gala wedding of Kim Kardashian and Kris Humphries.
Late Sunday, Lilo tweeted to Lopez that "it was lovely seeing you last night and i'm glad we got to "hug it out!" :) xx."
Lopez, early Monday responded, saying "Me too xxo."
The pair's feud began in March 2010, after Lopez joked about a widely-circulated image of Lohan sporting a mysterious white substance on her shoes.
Article continues below advertisement
"It's not what you think. She kicked over a bottle of Tough Actin' Tintactin while allegedly snorting cocaine. Allegedly!" Lopez, who routinely sprinkled Lohan's follies into his monologues on his recently-canceled talk show said.
VIDEO: George Lopez Makes 'Pig Joke' At Kirstie Alley's Expense
This set the redhead actress off on a Twitter rant in which she told the comedian,"Thanks for the childish comment regarding baby powder in my shoes. Don't you have kids? Wouldn't wanna hear that about them, or would you?