Exclusive
Severely Facially Disfigured Woman Finds True Love Against All Odds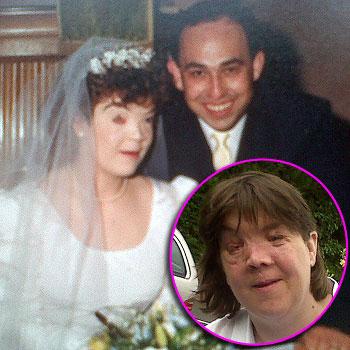 In the superficial, looks obsessed, cosmetic surgery world we live in today it is heartwarming to know that sometimes, just sometimes, a person's inner beauty can really shine through.
A severely facially disfigured woman has told of how she found love against all the odds, going on to marry her true Prince Charming.
Debbie Hanson was born with a congenital condition where the top of her jaw and eyebrows had not formed properly in the womb. She is blind in her left eye and severely short-sighted in the right.
Article continues below advertisement
Growing-up she was concerned that she would never be in a romantic relationship because of how she looked but conversations over the phone with a work associate blossomed and led to her finding her soul mate.
Debbie worked at her local job center when she was 18 and would sometimes speak to a man that worked in the council's housing department. Her chats with Lee Hanson, started out purely about work but would soon lead to them laughing and flirting on the line.
The brunette was happy to eventually meet face-to-face when Lee invited her out on a date but she felt the need to forewarn him about her disfigurement.
"I've had surgery on my face. I don't look like everyone else," she told Lee. But he was not put off and his response was: "So what?"
Lee had splashed out on a new Chanel aftershave especially for their first date but was not aware that Debbie did not have any sense of smell.
Article continues below advertisement
The pair soon fell in love and after three weeks he told her that he thought they should get married. They tied the knot in May 1989.
They've raised two children together; Becky, 18, and Josh, 14, and Debbie is happy that she took a chance on love and did not let her disability stand in her way.
But life has not always been easy for Debbie who was mercilessly teased at school while growing up in Birmingham, England. "Hey, Miss Piggy, did your face melt in a fire?" a boy shouted at her once, she recalls.
She endured a 12-hour operation and three months in hospital soon after she started high school where doctors tried to mould a nose for her through a bone graft.
Debbie is now an advocate for other people with disfigurements and says she has proved people wrong who said she would never make anything of her life.
RELATED STORIES: