Brittny Gastineau Catches Kim Kardashian's Wedding Bouquet!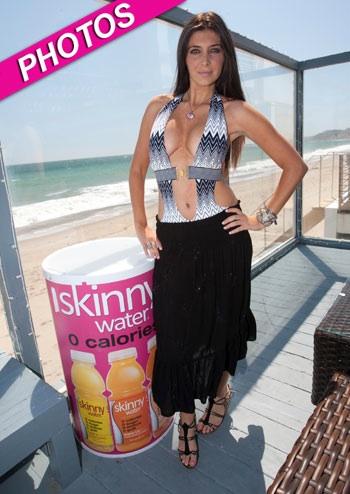 With her family name tied to football, it was only fitting Brittny Gastineau made the big catch at Kim Kardashian's wedding.
The estranged daughter of former NFL star Mark Gastineau grabbed Kim's bouquet, which is traditionally a sign as to who will be the next bride.
The Gastineau Girls star, 27, admitted she cheated slightly in order to catch the flowers at the beautiful Saturday ceremony between Kim and Kris Humphries.
Article continues below advertisement
The childhood friend of Kim's told Entertainment Tonight: "I had a little talk with her when she was going to throw the bouquet. I said, 'Listen, you and I have been best friends the longest. I'd better catch this bouquet.' And she looks at me and she winks at me."
Many of the guests guessed it was fixed that Brittny would catch the bouquet, and playfully jeered her triumph.
"I was like, 'I'm next!'" Brittny joked. "And everyone was screaming, 'We want a do-over! Brittny can't win it!'"
Brittny -- who was rumored to be dating Olympic swimmer Michael Phelps last year -- observed Kim had caught her sister Khloe's bouquet at her wedding to Lamar Odom last year, adding: "When a Kardashian throws a bouquet, it's lucky."
Brittny also revealed some details from the lavish nuptials, which was attended by 440 guests and saw Kim wear three different Vera Wang dresses and jewelry worth a reported $6 million.
Article continues below advertisement
Brittny was especially moved to see her friend looking like an "old Hollywood glamorous princess" as she was walked down the aisle by her stepfather Bruce Jenner.
Kim Kardashian's Star-Studded Wedding Guest List
"My favorite moment was when Bruce was walking her down the aisle and I just looked at her and I knew that this is finally here, this day that you've always wanted, and you met a great guy.
"Who would ever think that she would meet a guy named Kris with a K? That's when you know it's meant to be."
Brittny also revealed the food at the Wolfgang Puck-catered wedding was "unreal" and the wedding cake -- a 6-feet-tall layered cake from Hansen's Bakery worth $15,000 -- was "to die for."
Kim Kardashian's Trainer Reveals How She Got Her Hot Body Ready To Wed!
As we previously reported, Hollywood was out in full force for the affair. Eva Longoria, Mario Lopez, Ryan Seacrest and Julianne Hough, George Lopez, Sugar Ray Leonard, Lindsay Lohan with mom Dina, and Ciara were all there, dressed in black or white, per Kim's instructions.
Article continues below advertisement