TV Reporter Shot While Broadcasting Live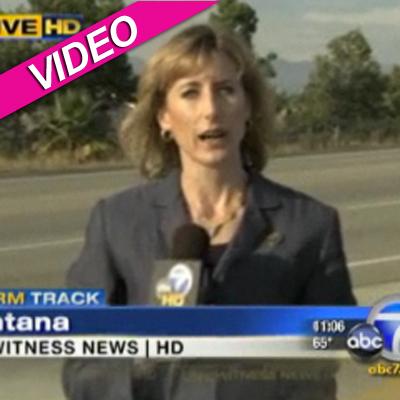 We're used to seeing TV reporters risking their lives in dangerous war zones, but covering the weather outside of L.A.?
Leanne Suter was reporting on a freak rain storm that had caused flooding east of Los Angeles, in Fontana, Calif., when she was shot with a BB gun!
The stellar reporter with ABC's L.A. station never missed a beat, but her voice did begin to falter towards the end of the report and she could be seen looking at her hand.
Article continues below advertisement
Suter had been hit in the hand with a pellet from a BB gun, and cops scrambled to find out who the trigger man was.
The San Bernardino County Sheriff's Department put a helicopter up and quickly ascertained the property from where the pellets came.
Inside cops found several BB guns and two boys, ages 16 and 17. They were arrested for felony assault with a deadly weapon.
Suter was taken to the hospital for treatment, and released the same day.
"We are grateful that no one was seriously hurt," said KABC president Arnold Kleiner.
RELATED STORIES: