Summer Trend Alert! Feather Extensions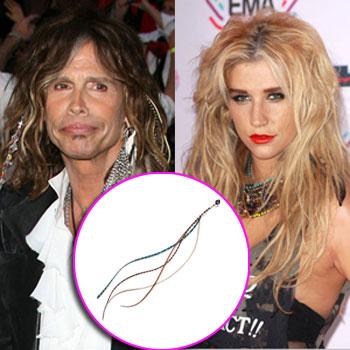 By Leah Ornstein - Radar Style & Beauty Editor
Steven Tyler has been rockin' the look for years now, but just recently the feathered trend has taken flight with stars like Selena Gomez, Ke$ha and Jennifer Love Hewitt stepping out with feather extensions in their hair. RadarOnline.com turned to celebrity hair stylist and "Feathered Friends" expert Sean James of the Fred Segal Salon in Santa Monica, to explain one of the hottest trends this summer.
Article continues below advertisement
James, who has tousled the tresses of everyone from Jaime Pressly to Courtney Love, has gained a quick cult following for his fabulous rock n' roll take on the feather extensions trend.
Using an assortment of bird feathers, ranging from rooster to peacock in a bevy of colors from bright and splashy hues to subtle ombre, Sean strategically clamps each cluster into the hair (no glue is used!) to achieve the desired look.
"With prices starting at $50 and results lasting for up to 2-3 months, feather extensions are the perfect and most affordable way to add a little flair of fashion to your hair without permanently damaging your hair," explains the hairstylist to-the-stars.
If you can't make it into a salon and you want to get the look, Sultra Natural Feather Hair Accents are a quick fix. The detachable feather accessories come in a variety of colors and are available at Sephora stores nationwide for $25.
To book an appointment with Sean James at the Fred Segal Salon in Santa Monica, call 310.907.4022.