Ramona Singer Is Returning To HSN With Her Bling!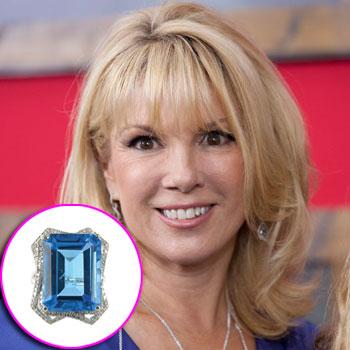 Outspoken reality star Ramona Singer is making another kind of TV statement – this time it's of the fashion kind – with her new jewelry collection on HSN this week!
The feisty and fashionable Real Housewife of New York City is back for another show with an all new collection of affordable, art deco and estate-like pieces. Ramona has expanded on her sea glass collection with more agate pieces, including a cuff bracelet, earrings and rings available in solid white and solid black.
Article continues below advertisement
Always a best seller, Ramona, a graduate of the Fashion Institute of Technology, is bringing back her sterling silver diamond graduated inside-out hoop earrings and is introducing her braided hoop earrings in rose vermeil and silver. Ramona's also bringing back what she calls the "hit red carpet look" -- her London Blue Topaz pieces with gemstones in rings, necklaces and earrings.
"These pieces are glamorous, gorgeous and just fun!" exclaims Ramona.
Her new line of pendants, earrings, necklaces, bracelets and rings is priced between $219 and $1,599.
Ramona Singer's HSN show airs Friday, July 8 from 1-3 p.m. EST.