Pink & Carey Hart – Basket Cases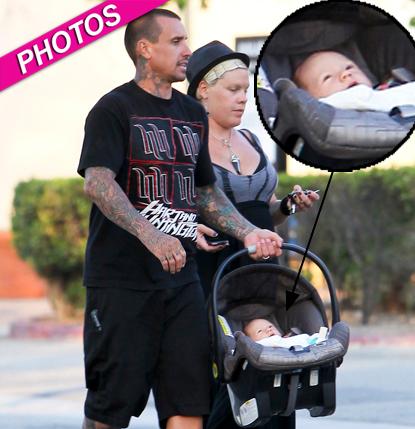 by Radar Staff
Wide-eyed and beautiful – that's rock star Pink's brand new baby girl Willow Sage!
Dressed all-in-black, proud parents Pink (Alicia Beth Moore) and her husband Carey Hart were all smiles as they carried their month-old daughter around in a baby basket in Malibu, California on Wednesday.
Willow already has a shock of hair, and just like her famous mom looks alert and full of life too.
And it look's like the outrageous singer is already getting ready to pass on some of her fashion tips to her baby girl.
Article continues below advertisement
On her Twitter page she wrote on July 4:
Willow and I are on point today as far as mixing fashion and patriotism. it's on.
Radar Online.com was first to report that the singer had given birth to Willow on June 2 at Cedars Sinai Hospital in Los Angeles at around 12.30 pm. PT.
Pink had a C-section as her baby was breached, but the operation went without a hitch and as you can see Willow is every bit as beautiful as her rock star mom.