Patrick Schwarzenegger Shows Twitter Support for Injured Brother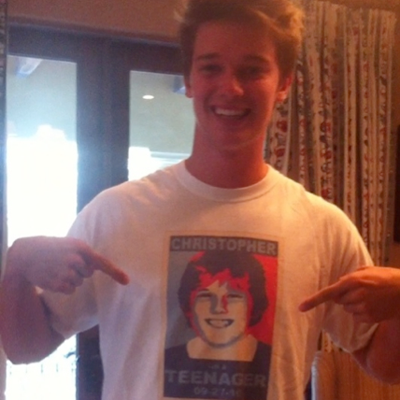 By Cliff Renfrew - Radar Reporter
Finally some good news for Arnold Schwarzenegger -- his teenage son Christopher is continuing to improve following his surfing accident.
The former Governor Of California's older son Patrick used his Twitter account to let the world know that his little brother was on the mend.
Patrick - who angrily reacted to news about his famous father's secret son Joseph with maid Mildred Baena by using 'Shriver' as his surname - was happy to report that Christopher's condition continues to improve.
Article continues below advertisement
He wrote over the weekend on his Twitter:
PSchwarzenegger - Patrick Shriver
My brother is doing alot better. Wearing this shirt for him. http://say.ly/xswwCn
Patrick also posted a photograph of himself wearing a President Barack Obama style t-shirt with his brother's face with 'I'm A Teenager' written on it accompanied by his date of birth.
Schwarzenegger, 63, was photographed on Saturday visiting Christopher at UCLA Medical Center accompanied by his daughter Christina, 19, and Patrick, 17.
Christopher, 13, suffered a collapsed lung and broken ribs during the accident which happened off a beach in Malibu, CA, last week.
He was rushed by ambulance to the Intensive Care Unit at UCLA, and is now said to be in stable condition and expected to make a full recovery.
Despite the recent scandal that rocked their family, both Arnold and his soon-to-be ex-wife Maria Shriver have been constantly at their son's bedside.