Nicole Kidman Celebrates Sunday Rose's 3rd Birthday!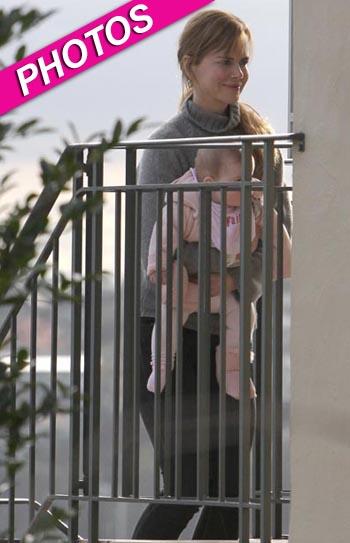 Proud mom, Nicole Kidman, just couldn't wait to celebrate her daughter Sunday Rose's third birthday!
The 44-year-old Moulin Rouge star held her other daughter, baby Faith, as she arrived at her parents' home in her native Sydney, Australia on Thursday for a family birthday bash.
Sunday Rose actually turns three on July 7 but the Kidmans were clearly anxious to start the celebrations early.
Article continues below advertisement
The typically glamorous movie star was dressed down in a grey turtle-neck sweater and slim fit dark jeans and at one point could be seen on the balcony holding a sloppily wrapped gift.
Meanwhile, six-month-old Faith dressed for the occasion, sporting a pink onsie and a monogrammed bib.
Nicole's sister Antonia and son Nicholas also attended the celebration and helped little Sunday blow out the candles on her birthday cake.
Nicole, who has two adopted children, Isabella, 18, and Connor, 16, with ex-husband Tom Cruise, endured a very public battle with infertility during her first years of marriage to country star Keith Urban. But the Urbans triumphed in the end, giving birth to Sunday Rose on July 7 of 2008 and welcoming Faith on December 28 of 2010, via surrogate.
RELATED STORIES: