Exclusive
Newborn Baby Tips The Scale At 16 Lbs. In Texas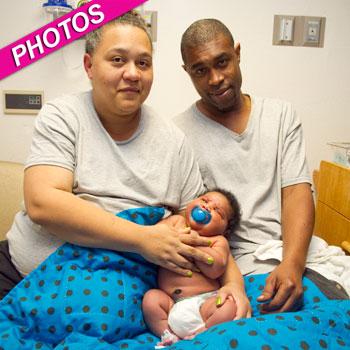 By Amber Goodhand - RadarOnline.com Staff Reporter
They say everything is bigger in Texas.
The same goes for newborn babies! Janet Johnson gave birth to the largest baby ever on record in Texas last week, weighing in at 16-pounds and nearly two-feet in length.
Johnson and her husband Michael Brown welcomed their son JaMichael via C-section (phew!) in a Longview, Texas hospital where the baby boy remains in intensive care to regulate his blood sugar.
Article continues below advertisement
Johnson had gestational diabetes during her pregnancy, contributing to JaMichael's irregular blood sugar, but hospital personnel think he'll be released shortly.
Nicknamed "The Moose" by nurses at the hospital, JaMichael came out with a full head of hair — and the hospital did not have diapers large enough to fit him, nor did any of his baby clothes fit.
"A lot of stuff that we bought him is too little. So we have to exchange a lot of stuff," Johnson said on the Today show Tuesday morning via satellite.