Nadya Suleman's Octuplets Take Over Today Show – One Nearly Gets Hurt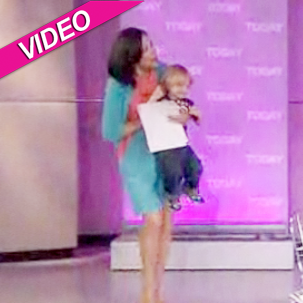 By Adam S. Levy - Radar Staff Writer
Nadya "Octo-Mom" Suleman's octuplets appeared live on The Today Show for the first time Friday, in an appearance highlighted by a scary moment when one of her little ones fell into a backdrop on the set of the show.
The mother-of-14, 34, was discussing her recent business endeavors, her bout with panic attacks and disdain of public assistance, when the 2-year-olds began running amok, and Suleman struggled to control them.
Article continues below advertisement
As previously mentioned, one of her little boys put his head under a background curtain and fell head-on in a groove at the backdrop of the set, but was thankfully rescued by anchor Ann Curry.
Throughout the segment, Suleman tried in vain to keep her children corralled, as they were running wild all over the set. At one point, she had to literally count to eight to make sure one of them hadn't wandered astray.
Suleman said that the children were antsy because they only had two hours of sleep, and they'd just taken their first trip.
"These are incredibly behaved children; they sleep really well!" she said. "They are unbelievable behaved and they are advanced in school."
Watch the video on RadarOnline.com.
Visit msnbc.com for breaking news, world news, and news about the economy
RELATED STORIES: